Recently there has been a lot of discussion about the decision to move forward with the plans of implementing a large shopping complex in Kihei located Mauka side of the Piilani Hwy at the Kaonoulu St intersection. These plans were approved back in 1999 but actual development was set to begin this year. Although I encourage "smart growth" in communities when there is a demand for expansion to accommodate a growing population on Maui, I personally don't see a need for an additional development of this magnitude in Kihei. I do appreciate the voices of groups like The Maui Tomorrow Foundation and South Maui Citizens for Responsible Growth who are encouraging the county to address the design of the development and how it can be adjusted for 2012 traffic, lifestyle, and preservation of our beautiful aina.
Below is the article recently featured in "The Maui News":
LINK TO ARTICLE ON MAUI NEWS SITE
Appeals filed to put 'halt' to malls project
Initial OK does not match what's being developed, resident of Kihei, groups say
By BRIAN PERRY – City Editor
KIHEI – Community groups and a South Maui resident have filed appeals with state and county agencies to put the brakes on two megamall shopping complexes planned in Kihei, mauka of the Piilani Highway-Kaonoulu Street intersection.
The Maui Tomorrow Foundation, South Maui Citizens for Responsible Growth and Kihei resident Daniel Kanahele contend that the light industrial project approved in 1999 for then-landowner Kaonoulu Ranch is not what's being developed by current owner Eclipse Development Group, said foundation Executive Director Irene Bowie.
"We're trying to halt the project until the requirements that were placed on it are met and reasonable measures are taken to decide whether this is a smart project for South Maui," Bowie said Monday.
Project consultant Charlie Jencks could not be reached for comment Monday afternoon.
Bowie said appeals were filed with the county Board of Variances and Appeals last week and with the state Land Use Commission on Monday.
The action comes in the wake of Eclipse Development's plans to build a 300,000-square-foot project, Maui Outlets, on 30 acres and a 400,000-square-foot shopping center, Piilani Promenade, on approximately 68 acres, according to the developer's website. Both projects are expected to add about 90 stores and restaurants to South Maui and add more than 1,200 jobs. The developer's website lauds the projects' locations adjacent to the planned Kihei-Upcountry highway.
And, "with more than three quarters of a mile of frontage along one of Maui's busiest highways (Piilani), the site sees roughly 38,000 cars per day," the website says. "This figure is expected to double once the expansion of the Upcountry road is completed, conveniently connecting Maui Outlets to the area's residential market and on to nearby Kahului. In fact, the addition of right-turn lanes along Piilani Highway and the installation of two signalized intersections added along Kaonoulu Street will truly make the Maui Outlets' site 'Main and Main.' "
Because the project was approved in the late 1990s, it appeared early this year to be ready to seek building and grading permits.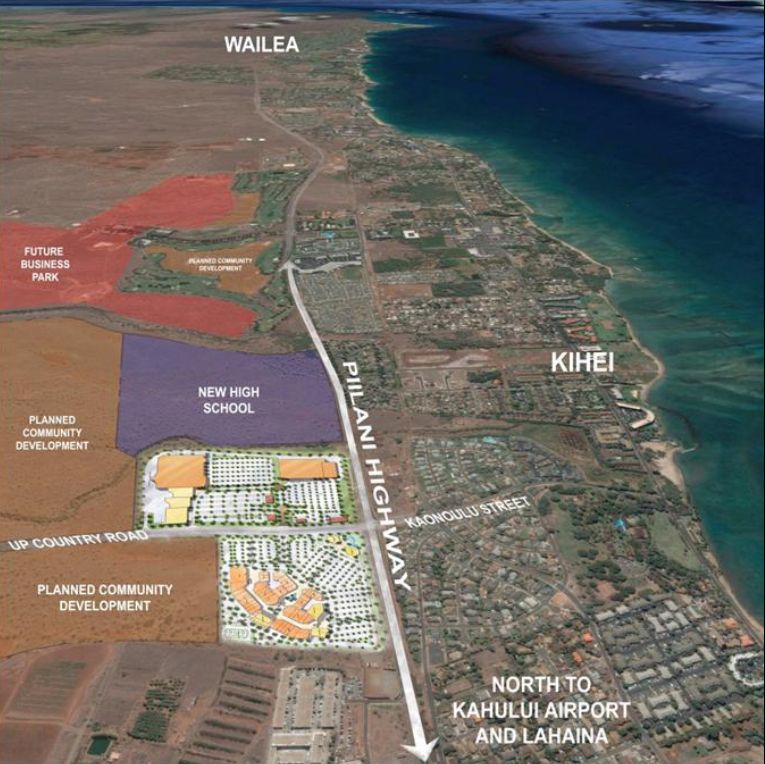 But Bowie said the groups challenging the plans to begin construction believe a new traffic study needs to be done. A study was done in the 1990s when the project was a light industrial park, not a large commercial development, she said.
The traffic study "definitely needs to be updated," she said.
A condition imposed by the state Land Use Commission required a frontage road and connector roads for the project, but "there isn't anything that shows that in the plans the Planning Department has," Bowie said.
She said the Kihei-Makena Community Plan requires all retail development to be on the makai side of Piilani Highway, while the Eclipse project is mauka of the highway.
"The public needs to be heard on this," Bowie said. "There needs to be a public hearing."
"The community is frustrated because Eclipse Development has so far refused to engage in any public discussion of the shopping center," she said.
When a development is proposed and approved as a light industrial project and later is being developed as a large commercial project, "it's something that shouldn't fall through the cracks," she said.
Language in the Land Use Commission's approval of the project required that if there were a change of use in the proposed project that it should return to the commission for review, she said.
"We are looking for administrative relief," Bowie said of the groups' appeals to the state and county agencies. "Hopefully, that will be satisfactory."
Groups challenging the project also are concerned about what Bowie describes as "acres of hard-surface parking lot in a flood plain."
"This doesn't seem like a smart way to go forward," she said.
It was unclear if site work has begun on the project, Bowie said, although she reported seeing "some bulldozers on the project site."
For more information about new developments on Maui or real estate on the island of Maui, contact Meghan Clair Realtor (s) EcoBroker of Coldwell Banker Island Properties

Meghan ClairRealtor (S), EcoBroker
Coldwell Banker Island Properties
MauiGreenRealtor at gmail.com
(808) 874-8668 office
(808) 463-8485 cell
May 29th, 2012 at 9:10 am