Posted by Kelly in : Big Island Hawaii, Featured Listings, HERE ON THE BIG ISLAND, Updates , add a comment
HERE ON THE BIG ISLAND
By Kelly Moran
Warming the Big Island for 30 Years
"You've got a fireplace?  In Hawaii?"  People might be incredulous, but think about it.  Very few houses here have insulation in their walls; none, certainly, have a boiler or any source of heat beyond sunlight through the windows – and those are generally single-pane windows, not the heat-retaining double-glazed kind.  But even here, where there is no snow and ice, there is great joy to be found in just sitting around a fire  . . .  it strikes a chord deep in the human psyche.
Fireplaces here in Hawaii have been Jeffrey Mermel's business since 1979, when he bought two wood stoves, put one in his house, and sold the other.  His shop is called the Fireplace & Home Center; but for Jeffrey, the word "fireplace" is a relative term.  It means not only a built-in or freestanding stove, but a "fire feature" for the home, that burns LP gas or (the newest thing) bio-ethanol, which needs neither a gas line nor a chimney.  There are even electric fireplaces!  "Well . . ." he admits, "an electric fireplace is really a piece of furniture that displays an image of a fire."
His shop also offers grills, both gas and charcoal, from small portable units to big outdoor-kitchen size.  He has pizza ovens that come as a kit, with firebricks placed on a Styrofoam mold.  (One customer in Kohala mounted the oven on a trailer, as a snack wagon, to make pizzas along the roadside.)  Jeffrey's wood stoves are popular all over the island, but especially in the higher elevations, like Waimea and Volcano, where winter temperatures can fall into the 40s or even the 30s.  (No insulation, remember?)  And he also represents a line of saunas, from Finland, that use infrared heat, for "all of the health benefits of a traditional sauna, but at lower temperatures."
Jeffrey came to Hilo in 1976 from San Francisco, where he had been a photographer.  Here he met and married Sally, who owned a gift shop on Keawe St.  "I married a retailer," he says, "and became one myself."  (By the way, Sally also liked fresh-brewed coffee, but couldn't find a decent cup near her store; so she started Bear's, which is still in the coffee business there on Keawe St.)  But Sally didn't give up working when she married Jeffrey.  They moved both of their enterprises together, twenty years ago, into the split halves of a single storefront on Kamehameha Ave. in downtown Hilo.
Sally's half is called The Most Irresistible Shop in Hilo.  And what is so "irresistible" about it?  A variety of merchandise that can realistically claim to offer something for everyone:  jewelry, toys, books, shirts, decorative art, hats, souvenirs, lamps, Christmas gifts, tea and saki sets, kitchenware, pareus (sarongs), tee shirts, scarves, postcards, purses, spices, sauces, candies, and locally-made soaps.  "She's got 'the eye' for things!" Jeffrey says proudly.
Jeffrey sells his "fire features" statewide.  So, you may be wondering (as I did): How many fireplaces are there, here in Hawaii?  "Enough," says Jeffrey with a smile, "to put our two kids through college!"
[Me (on the right) with my friends Jeffrey and Sally Mermel, in front of their store on Kam Avenue in Hilo.]
… and these two businesses are now for sale!  Both adjacent businesses are being sold together. This is a rare opportunity to step into a business venture with a long and positive track record. Jeffrey and Sally have done the hard work building a solid positive reputation for both businesses, and they are also willing to train Buyers during the transition period.
To see all the details and virtual tour, click here:
Posted by Kelly in : Big Island Hawaii, Featured Listings, Updates , add a comment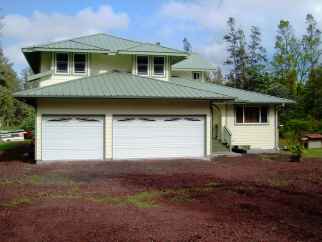 NEW LISTING!
Country Privacy and a Spectacular Custom Home
Property Website: www.KellyMoran.com/240592.asp
Virtual Tour: www.tourfactory.com/698915
Enjoy country privacy in a spectacular custom 4 BR, 3.5 BA home with high-end quality details, including granite counters, gourmet kitchen, and a master suite with tiled lanai overlooking natural tropical foliage.
This Hardi-plank sided home has custom trusses, all dual-paned windows, a 10,000 gallon catchment water tank, dual filter UV water system, and a partial ocean view! The living & dining rooms feature gleaming Brazilian laminate flooring. A sliding door opens from the dining room to the ground floor lanai overlooking the peaceful back yard.
The second-floor master suite features a tiled lanai with a "peek-a-boo" ocean view, walk-in closet, master bath with dual sinks, whirlpool tub, and separate glass block enclosed shower with multiple shower heads. Two additional upstairs bedrooms share a "Jack & Jill" bathroom.
The home site was cleared to preserve the large native trees which provide privacy surrounding the property. Tropical fruit trees & vegetables have been planted in the fertile soil, including: avocado, fig, mango, grapefruit, lychee, tapioca, tangerine & more! Ornamentals include: orchids, roses, hibiscus & sunflowers.
Privacy, luxury, and room to breathe! This home has it all.
Posted by Kelly in : Updates , add a comment
HERE ON THE BIG ISLAND
By Kelly Moran
Honoring the Ali'i in Kona
                Ever since the U.S. annexed Hawaii in 1898, the native royalty – ali'i – haven't played much of a role in governance, though some did, early on: most notably Prince Jonah Kuhio Kalanianaole.  Had Queen Liliuokalani not been overthrown, he was considered next in succession, and would probably have become King.  As it happened, he served a year in jail for joining the putsch that failed to restore the monarchy.  But in 1903 he was elected Hawaii's first U.S. Congressional Delegate, and he's honored now, every March 26, with a state holiday called "Prince Kuhio Day."
                I mention this because he was the last member of the ali'i to own and live in the Big Island's only royal residence: Hulihe'e Palace, on Ali'i Drive in Kailua-Kona.
                Since it was essentially a vacation-house, Hulihe'e is pretty small for a palace: it's a simple two-story building with a footprint of only 30 X 60 feet, and just three rooms plus a lanai on each floor.  A parlor and a dining room flank the center entry hall, above which the sitting-room is flanked by two bedrooms.  In Kona alone, there are literally thousands of houses that are bigger; but none has such an illustrious history.
                One of the very oldest surviving buildings in Hawaii, it was built in 1838 for the second governor of the Big Island.  In 1844, the house passed to his daughter-in-law, Princess Ruth Ke'elikolani, who was half-sister to the last of the Kamehameha kings (IV and V).  She willed the house to Princess Bernice Pauahi Bishop, who died young; and although Pauahi's will created the Bishop Estate, the house itself was sold to King David Kalakaua.
                The "Merrie Monarch" had it extensively remodeled in high Victorian style, with stucco on the outside, plastered interior walls with gold-leaf moldings, and crystal chandeliers.  The rooms are kept, today, as they were commissioned by Kalakaua, and contain many pieces of furniture that he and other royal family members owned and used, along with displays of museum-quality artifacts from pre-contact Hawaii.
                Prince Kuhio and his brother, David Kawananakoa, were the last royal owners, and it went into private hands upon Kuhio's death in 1922.  The palace would probably have been torn down to make room for a hotel; but it was acquired in 1925 by the Daughters of Hawaii, a not-for-profit group originally formed in 1903 by kama'aina (locally-born) haole women who wanted "to perpetuate the memory and spirit of old Hawai'i and of historic facts, and to preserve the nomenclature and correct pronunciation of the Hawaiian language."  (The organization also maintains Queen Emma's Summer Palace, mauka of downtown Honolulu, in Nu'uanu Valley.)
                The walls are made of local lava stone and coral, a full three feet thick, but they were no match for an earthquake in October 2006, which caused both cosmetic and structural damage.  The Daughters of Hawaii raised the money for repairs, and were finally able to re-open the Palace this year.
                So, now you can visit Wednesdays through Saturdays from 10 a.m. to 3 p.m.  Admission is only $5, which is quite a bargain for a chance to put yourself back in time, to get a sense of those bygone days when royalty were a living presence in Hawaii. You may also view the Calendar of Events here.
Posted by Kelly in : Updates , 2comments
HERE ON THE BIG ISLAND
By Kelly Moran
Live from the Met . . . in Hilo
          It's almost 5,000 miles from the Prince Kuhio Plaza in Hilo to the Metropolitan Opera House in New York City.  But now you can get all the way to the Met by simply going to the mall – specifically, to the multiplex movie theater there.
          Operas have been broadcast over the radio, live from the stage of the Met, for the past 79 years; they're on Hawaii's NPR affiliates: 91.1 in Hilo, 91.7 in Kona, every Saturday afternoon during the Met's season, which is autumn-to-spring.
          Operas have been filmed and shown in theaters, of course, but such filming was almost always done in movie studios, and was therefore a huge expense over and above producing the opera itself.  And opera is just about the most expensive theatrical production there is.
          But four years ago, the Met's general manager, Peter Gelb, arranged to have one Saturday matinee a month televised.  I know, I know: operas have been shown on TV before.  But home-size sets with tiny speakers and (until recently) rather low screen resolutions, simply can not convey the scope and scale of seeing a fully-staged opera in a theater, much less at the 3,000-seat Metropolitan Opera House.  (It's not called "grand" opera for nothing.)
          Gelb's innovation was to broadcast the performances in high-definition video, and to have them shown exclusively in theaters. After all, most movies are no longer distributed on film in cans.  They are digitally downloaded through satellite dishes on theater roofs, and are projected in high-definition.  Taking advantage of these new technologies, the Met's operas are seen on big screens with full stereo sound, in more than 40 countries around the world.  (Go to www.metopera.org for more information.)
          Go to the Prince Kuhio Theaters, pay $22 ($20 if you're a senior), and you are, in effect, seeing an opera at the Met, right along with the audience in New York.  Yes, that price is about double what a movie costs; but it's far, far cheaper than a good seat in a world-class opera house. Besides, at the multiplex, you won't feel embarrassed if you don't dress up; and you can eat your popcorn or candy, and drink your water or soda during the show, which, believe me, you can not do at the Met.
          The broadcasts are subtitled in English; and it goes without saying that all the performances are first-rate: the Met is where the world's top talent wants to be seen, and there is really no other way for us in Hawaii to see them there without spending a fortune on travel and tickets.
          The shows generally are hosted by the renowned diva Renée Fleming (unless she's singing that day). 
She typically says a few words about the opera's composer and its stage history, and interviews the leading singers, either before the show starts or during an intermission.  The conductor and the opera's theatrical and/or musical director will also talk about the dramaturgical choices they have made (even the oldest of chestnuts get new-concept staging, nowadays).  Such inside-stuff may seem of interest only to longtime opera buffs, but how else will a new generation of audiences be introduced to opera: it's an open window into how this most complex of entertainment forms gets made.
          Many of the Met's broadcasts are later shown on Public TV (PBS), and the increasing popularity of opera as television programming has made an interesting change in casting.  No longer is it only someone's voice that matters.  TV viewers and movie-goers expect to see close-ups of the stars, and watch vigorous action-scenes.  So, to be believable, heroes have to be handsome, leading ladies have to be gorgeous, and villains have to look sufficiently evil – at least in makeup.
          The next hi-def Met broadcast is "Armida," by Gioachino Rossini, and it starts at 1 p.m. on Saturday May 1st.  "Armida" is not a famous opera, but Fleming herself is the star, and Rossini's music is always tuneful.  It's the last show of the season, but the next season starts in September, and will include the first two of Richard Wagner's four operas in his "Ring Cycle" – arguably the most dramatic work in the operatic art-form. If you've never seen a professional opera performance, or haven't gone in a long time, for whatever reason, take it from me: it's worth twenty-two bucks to go to the Met.
Posted by Kelly in : Big Island Hawaii, HERE ON THE BIG ISLAND, Updates , add a comment
HERE ON THE BIG ISLAND
By Kelly Moran
We Were Prepared – and Lucky!
On the morning of a calm sunny Saturday, the 27th of February, tsunami alert sirens all around the island went off.  An earthquake in Chile, the night before, had sent shock-waves through the Pacific, and the Big Island got ready to deal with its consequences.
Hilo was famously socked twice in the 20th century by the force of a tsunami – more than twice, actually, but hit  really hard  in 1946 and 1960.  The tsunami in '60 had come from an earthquake in (you guessed it) Chile, which at 9.5 was the largest  ever  recorded. This latest one, at 8.8, was only(!) the fifth-largest.
Here in Hawaii, we pay attention to tsunami alerts.  Last September, a tsunami slammed into American Samoa.  In December of 2004, a tsunami devastated several countries on the Indian Ocean.
The Pacific has a network of buoys across its expanse and along all of its coasts, linked by radio data transmission.  (The Indian Ocean does not have such a network, so the 2004 tsunami there could not be detected and warned against until it was too late.) 
The Pacific sensors picked up oceanic disturbances and local rises in sea-level almost immediately after the Chilean quake.  As soon as that news reached our Civil Defense units, on Friday night (Hawaii time), they issued their warnings of a potential tsunami.  Ocean waves generated by earthquakes travel about as fast as a jetliner, some 400-500 miles per hour; so Civil Defense calculated that they would reach Hawaii around 11 a.m. Saturday morning.
The first pages of the telephone directories in Hawaii have maps of potential tsunami inundation zones on every island.  There's even more information online, as well as news about this latest tsunami and those of the past.  It should come as no surprise that Hilo is home to a museum about tsunamis: the Pacific Tsunami Museum (www.tsunami.org/index.html#news), which I mentioned last November, in urging you to sign up for local Civil Defense alerts via cellphone text. 
The United Nations, through UNESCO, operates the International Tsunami Information Center (http://ioc3.unesco.org/itic/), and both websites have links to additional sources of news and background information.
So, let me tell you: We were ready!  We were also lucky.
With so much advance notice, many boat-owners sailed out to sea, to ride it out.  Retail shopkeepers had time to move vulnerable inventory uphill.  Hilo Airport, which is inside the "tsunami indundation zone," was closed to traffic.  Mail delivery was suspended.  Hotels shifted people upstairs. (All of Hawaii's coastal hotels, by the way, are built on sturdy piers; their lobbies have tall ceilings and no load-bearing walls, so a tsunami can surge through without undermining the structure.)
That morning, as luck would have it, there was a minus tide.  I watched Hilo Bay through binauculars, from the Davidson's oceanfront home on Paukaa Drive, and the only effect that I saw was some waves cresting over the breakwater in the harbor.  Frankly, I've seen higher swells make bigger waves in a storm; but those were blue-green, with whitecaps, and had been generated by strong winds.  The waves on February 27 had been generated under the sea: they were brown from the mud (and whatever else) that they'd swept up from the Big Island's underwater landmass.
And that was about it for the tsunami of Feb. 27, 2010.  In the end, no damage was recorded anywhere in Hawaii.  But it could have been a catastrophe.  And this little blog would have been a lot different.
Posted by Kelly in : Hawaii Travel, HERE ON THE BIG ISLAND, Updates , 3comments
HERE ON THE BIG ISLAND
By Kelly Moran
A Historic Home Has Closed
Most "historic" homes here are merely old, and not especially significant in local history.  Fewer still are also visitor attractions. But among those that can rightly be considered of historical value, and well worth a tour, none is more important than the Parker family seat, Puuopelu. Unfortunately, it's now closed.
It stands a hundred yards or so off Hwy 190, on the dry side of Waimea – also called Kamuela, the Hawaiian rendition of "Samuel," and specifically Samuel Parker, next to whose ranchland the town itself grew up.
Samuel's father, John Palmer Parker II, created the eponymous Parker Ranch in the early 1800s, under a grant from King Kamehameha I himself, to round up and fence in feral cattle that had become a nuisance.
His original home, a few miles away, was a cottage in the New England "saltbox" style, but whose entire interior – walls, ceilings and floors – were paneled in wide koa boards.  In 1879, Samuel acquired a Victorian mansion called Puuopelu (literally a "pile of stones" but figuratively the "folding hills" of Kohala, which border the property).  It has been the family seat ever since.  Several generations have remodeled and expanded the house, and in 1986 John Parker's cottage was dismantled, moved, reassembled and erected right next door.
That was a favorite project of Richard Smart, the home's most colorful Parker heir, and the last of his family to have owned the ranch outright. 
Though an expert horseman, and a serious collector of European art, especially fond of paintings of Venice, Smart was not a rancher by profession.  Mainly, he was a singer, actor and theatrical producer, and in that capacity was largely responsible for the creation of the Kahilu Theater, a marvelous performance venue, which now stands in the Waimea shopping center that's also named after the Parker Ranch.
Since Smart's death in 1992, ownership and operation of the ranch and of Puuopelu have been the responsibility of the Parker Ranch Foundation Trust.  But the Trust has lost money in recent years, forcing it to sell some 3,500 (of its 130,000) acres of ranchland for residential development. And this past January, it announced that the historic home would be closed to visitors.  An exception was made, though, for the weekend of the Cherry Blossom Heritage Festival, during which admission was free!
A Trust spokeswoman told the West Hawaii Today newspaper in January that the Ranch will continue to offer visitors horseback and all-terrain vehicle tours, and hunting excursions, on the land.  (Go to www.parkerranch.com for details.) It's only the house-tours that will no longer be available.
So, what will be missed?  Plenty.  The estate includes John Parker II's old koa-paneled cottage, a carriage-house with two of the family's own buggies, and an Italian-style parterre garden that sits above a lake-size pond.  The main house has Victorian and early 20th century furnishings, as well as Richard Smart's important art collection.  Inside Puuopelu, too, are some museum-worthy historical documents, such as the formal commission making Richard's father, John Parker III, a cabinet minister to Queen Liliuokalani; and a handwritten letter of thanks to him from a grateful visitor: the Queen's predecessor, her brother, King Kalakaua.
Posted by Kelly in : Newsletter, Upcoming Events, Updates , add a comment
The February 2010 Newsletter is published.
View the February 2010 Newsletter here.
Sign up to receive future Newsletters to your email box here.
Posted by Kelly in : HERE ON THE BIG ISLAND, Updates , add a comment
HERE ON THE BIG ISLAND
By Kelly Moran
Dry Winter Weather
It's an "El Niño" winter, right now, and it's a mixed blessing for Hawaii.
Every few years, starting around Christmastime, the warm equatorial currents of the Pacific shift northward, toward the Tropic of Cancer. This causes a region of "high pressure" to hover around the Hawaiian Islands, keeping normally cool, wet weather at bay, and provoking a shift in the usual wind pattern. Instead of tradewinds swooping down on us from the northeast, most breezes this winter are coming from the southeast and southwest, which are warmer than the northeast trades.
So the Big Island stays somewhat warmer, and a whole lot drier, in an El Niño winter than it does in "normal" years. North and South Kohala, and most of Ka'u, are in a drought; and even Puna and Hilo, which should have gotten a couple of feet of rain by now, have received only a few inches. The Hawaii County water department is warning residents who order a tanker-truckload of water for their parched catchment tanks that they may have to wait three or four days for its delivery.
An earthquake in October 2006 knocked out the major irrigation system for the Honoka'a area and North Kohala; some repairs have been made, but farmers are not yet receiving the amount of water they need to sustain their crops, and rainfall has been nowhere near sufficient to make up the difference.
And the shift in prevailing winds has given East Hawaii a taste of something that normally plagues Ka'u and South Kona: we're getting Kilauea's notorious "vog" [read all about vog here].  Some days in Hilo and Hamakua have been downright gray, with obscured views and occasional drifts of noticeably sulfurous fumes.
While an El Niño gives local folks great cause for concern, most visitors won't be aware of this situation, and will construe the warm, dry days as a blessing for walking around and sightseeing: they might even pooh-pooh Hilo's reputation for clouds and rain. But dry weather also means that streams are not flowing heavily; Rainbow Falls and Akaka Falls and Umauma Falls are not as attractive, right now, as the guidebooks say they should be.
Other sights are more subtly affected. Waimea celebrated its annual Cherry Blossom Heritage Festival the first weekend in February. Normally, a wet and chilly winter would stimulate great masses of pink blossoms to festoon the dozens of trees that stretch along Church Row, and provide the thrilling experience that the Japanese call hanami – "viewing flowers" in Springtime. (Like the cherry trees in Washington DC, those in Waimea are ornamental, and do not produce edible fruit.)
This year being dry and warm, however, only a few sparse petals were on the branches; full bloom will likely not come for another two or three weeks. Of course, to put the best face on the situation, that means there's still time to see them at their peak!
Posted by Kelly in : Featured Listings, Updates , add a comment
Immaculate large custom home with cathedral ceilings on quiet Koloa Maoli (Road 9) in Hawaiian Acres. The interior features easy-care laminate flooring, gorgeous African Mahoghany cabinetry in the kitchen, tiled bathrooms and high ceilings throughout.
This spacious custom 4 bedroom, 3.5 bath home has extra bonus space too!
A separate farm and utility building has double extra-height Martin garage rolling doors — ideal for a home gym, boat or farm vehicle storage, vehicle repair area, art studio, or a large home office.
And … adjacent to the home's enclosed 2 car garage is a bonus room with a half bath. A sliding glass door provides access to the outside.

Situated on 3 acres that have been ripped and rolled (prepared for planting with a bulldozer which creates drainage). There are a variety of fruit and ornamental trees including Lychee, Tangerine, Dwarf Banana, Avocado, Mango, Navel Orange, Lemon, Lime and Ulu (breadfruit). Eight different varieties of Plumeria flowering trees adorn the driveway. Fragrant Gardenia, Pikake & Tiare plants grow around the house. A border of Podocarpus trees have been planted to provide privacy.
The entrance is fenced and gated, with paved road access on Road Nine from the Kurtistown Highway. Located only one mile from the Highway, with close access to Hilo, Hawaii's second largest city. Great site for a peaceful, rural lifestyle and to grow your own food.
For Current List Price, Virtual Tour, Additional Photos, Downloadable Flyer & More see:
www.kellymoran.com/231157.asp
Posted by Kelly in : Hawaii Travel, HERE ON THE BIG ISLAND, Scenic Drives, Updates , 2comments
HERE ON THE BIG ISLAND
By Kelly Moran
The "Red" Road That Isn't
     Until just a few years ago, Hwy 137 along the Puna coast was paved with locally quarried red cinder.  Though it's conventionally paved now, a rather standard gray-black color, local folks still call it "The Red Road." And it's still very narrow, with many blind hills and curves, weaving and undulating through stands of giant mango trees.  Pay attention, and drive carefully.
          Several small churches and tiny cemeteries lie along the road, the graves carefully tended and strewn with flowers.  They are a legacy of how long-settled this part of the island has always been, despite incursions of lava.  Signs give the dates of some flows, so you can see the progress in the advance of vegetation: lichen and ferns first, then grasses and ohia trees.
          You can expect Isaac Hale (rhymes with "pail") Beach Park to be crowded with families, because it's just about the only place along the coast where it's safe to get into the ocean for a swim, or launch a small boat. 
By contrast, the ocean at Mackenzie State Park is practically inaccessible; but the ironwood forest there is a nice place to picnic, and to walk the "King's Trail" along the coast. 
No sign marks Kahena Beach, a little further down Hwy 137, which is (unofficially) the only bathing spot on the island that's clothing-optional.
          Be aware that "beach" is a euphemism, here; so use caution when swimming anywhere on the Puna coast.  There are practically no reefs to block incoming waves or cancel out rip-currents, and those sandy pockets in their tiny bays drop off very quickly into deep, cold water.
          Inside the Seaview subdivision, there is a performance venue called the Seaview Performing Arts Center for Education, or S.P.A.C.E., which showcases local entertainers, including some circus performers (acrobats, especially) who live nearby.  Check the schedule at www.hvcircus.org/arts_center.htm.
          At the end of the road, enjoy a snack or a meal at the Kalapana Village Diner, or drink a cup of 'awa next door, at Uncle Robert's 'Awa Bar. Awa ("AH-VAH") is the Hawaiian name for a plant (piper methysticum) that's a cultural staple in nearly every Pacific island group.  The ground-up root is infused in cold water, and the resulting "tea" is sipped, traditionally out of a cup made from half a coconut shell.  'Awa can produce more relaxation or intoxication than a comparable volume of beer, and it has the side-effect of slightly numbing the mouth – which helps to overcome the taste: a gritty broth that may remind you of soap. Nonetheless, many people drink more than one cup, after which the effect can be profound; so you'll probably want to designate a driver who doesn't drink any.
          Then, as you head back toward Pahoa on Hwy 130, stop for a while at the Star of the Sea Catholic church, which used to stand in Kalapana, but was hauled away just before lava rolled over the site.  It's painted inside to suggest a cathedral (as is St. Benedict's, in Honaunau, South Kona).  But Star of the Sea is also historically significant: Father – now Saint – Damian was the priest here, just before he was "called" to Molokai.
          Puna is the Big Island's geologically youngest district.  It offers the least-expensive land, and is hence very popular, despite the fact that parts of it are inundated, every decade or so, by fresh lava.  Along the coast road, you will easily visualize the progress of vegetation reclaiming the land – first with grasses, then with ohia trees, as they colonize each new flow.
          As for the black-sand beaches of Puna, they were formed when hot lava was pulverized by the chilly sea water, after which the new "sand" accumulated in a bay.  The oldest and most picturesque of these beaches – palm-fringed Kaimu, and broad Kalapana – are now buried beneath tons of newer lava, as is a cold, fresh-water pool nearby that was called Queen's Bath. 
On the Puna coast, you'll really understand the futility of claiming that you stand "on solid ground."