Posted by Kelly in : Featured Listings , add a comment
Mauna Loa Shores Condo
Watch sea turtles, dine overlooking the ocean, enjoy tropical tradewinds… all of this is possible from this one bedroom, one bath condominium located in Mauna Loa Shores.
Like to swim and snorkel? The beach park next door has natural swimming pools. Enjoy jogging or biking? Kalanianaole Street is level and leads directly into downtown Hilo in one direction, and Richardson's Beach Park in the other.
In this condominium you'll find an extra-large granite kitchen island. The living room and lanai offer ocean views.
Mauna Loa Shores has a live-in resident manager, secure elevator access to all floors, assigned parking in a private parking lot, laundry and garbage disposal on each floor, and a large swimming pool.
Ideal for a primary residence or a second "beach house". Located in the Keaukaha area of Hilo, this sunny beach side community is a favorite of visitors and locals alike. It is not unusual to find the sun shining in Keaukaha when the rest of Hilo has rain. The current owner is relocating off island, creating this opportunity for you.
For full details, virtual tour, current price: http://263146.kellymoran.com
Posted by Kelly in : Big Island Hawaii, Featured Listings, HERE ON THE BIG ISLAND, Updates , add a comment
HERE ON THE BIG ISLAND
By Kelly Moran
Warming the Big Island for 30 Years
"You've got a fireplace?  In Hawaii?"  People might be incredulous, but think about it.  Very few houses here have insulation in their walls; none, certainly, have a boiler or any source of heat beyond sunlight through the windows – and those are generally single-pane windows, not the heat-retaining double-glazed kind.  But even here, where there is no snow and ice, there is great joy to be found in just sitting around a fire  . . .  it strikes a chord deep in the human psyche.
Fireplaces here in Hawaii have been Jeffrey Mermel's business since 1979, when he bought two wood stoves, put one in his house, and sold the other.  His shop is called the Fireplace & Home Center; but for Jeffrey, the word "fireplace" is a relative term.  It means not only a built-in or freestanding stove, but a "fire feature" for the home, that burns LP gas or (the newest thing) bio-ethanol, which needs neither a gas line nor a chimney.  There are even electric fireplaces!  "Well . . ." he admits, "an electric fireplace is really a piece of furniture that displays an image of a fire."
His shop also offers grills, both gas and charcoal, from small portable units to big outdoor-kitchen size.  He has pizza ovens that come as a kit, with firebricks placed on a Styrofoam mold.  (One customer in Kohala mounted the oven on a trailer, as a snack wagon, to make pizzas along the roadside.)  Jeffrey's wood stoves are popular all over the island, but especially in the higher elevations, like Waimea and Volcano, where winter temperatures can fall into the 40s or even the 30s.  (No insulation, remember?)  And he also represents a line of saunas, from Finland, that use infrared heat, for "all of the health benefits of a traditional sauna, but at lower temperatures."
Jeffrey came to Hilo in 1976 from San Francisco, where he had been a photographer.  Here he met and married Sally, who owned a gift shop on Keawe St.  "I married a retailer," he says, "and became one myself."  (By the way, Sally also liked fresh-brewed coffee, but couldn't find a decent cup near her store; so she started Bear's, which is still in the coffee business there on Keawe St.)  But Sally didn't give up working when she married Jeffrey.  They moved both of their enterprises together, twenty years ago, into the split halves of a single storefront on Kamehameha Ave. in downtown Hilo.
Sally's half is called The Most Irresistible Shop in Hilo.  And what is so "irresistible" about it?  A variety of merchandise that can realistically claim to offer something for everyone:  jewelry, toys, books, shirts, decorative art, hats, souvenirs, lamps, Christmas gifts, tea and saki sets, kitchenware, pareus (sarongs), tee shirts, scarves, postcards, purses, spices, sauces, candies, and locally-made soaps.  "She's got 'the eye' for things!" Jeffrey says proudly.
Jeffrey sells his "fire features" statewide.  So, you may be wondering (as I did): How many fireplaces are there, here in Hawaii?  "Enough," says Jeffrey with a smile, "to put our two kids through college!"
[Me (on the right) with my friends Jeffrey and Sally Mermel, in front of their store on Kam Avenue in Hilo.]
… and these two businesses are now for sale!  Both adjacent businesses are being sold together. This is a rare opportunity to step into a business venture with a long and positive track record. Jeffrey and Sally have done the hard work building a solid positive reputation for both businesses, and they are also willing to train Buyers during the transition period.
To see all the details and virtual tour, click here:
Posted by Kelly in : Big Island Hawaii, Featured Listings , 1 comment so far
---
Featured Listing
Note: Featured Listing posts reflect information as of date of post. For a complete listing of up-to-date Featured Listings, their prices and details, please click here. To search all current Big Island listings, click here.
---
Turnkey Nursery Business!   Hawaiian Sunshine Nursery
Hawaiian Sunshine Nursery (HSN) is the largest bromeliad nursery in the state of Hawaii and it's now for sale!
Based on the island of Oahu, the operation consists of sites in both Waimanalo, Oahu (the primary facility) and Hilo, Hawaii. This successful nursery propagates bromeliads, anthuriums, foliage, flowering plants and agricultural products for their customer base across the state of Hawaii, the US mainland and Guam. They grow and export a wide variety of potted plant material to local markets, mass market stores, supermarkets, florists, hotels, landscape contractors and interior-scapers.
The major product lines include:
* Bromeliads – common and exclusive varieties.
* Hawaiian Volcano Plants – This is a specialty line that is primarily sold in garden centers, airports, hotels etc.
* Anthuriums – HSN has exclusive production rights for varieties of anthuriums, and is projecting great market growth.
* Foliage and flowering plants – Potted plants including carnivorous plants, flowering plumeria trees, crotons, and numerous others.
* Green Roof and Green Wall products – Live plants assembled to cover wall and roof areas.
HSN has production facilities on the islands of Oahu and Hawaii. The primary facility is located on two 5-acre State of Hawaii lease-hold parcels in Waimanalo, Oahu. The facility consists of 6 Quonset type greenhouses, 2.5 acres of shade house, .5 acre of gutter connected greenhouse and .25 acre of warehouse and office space.
Both facilities have forklifts, tractors, trailers, sprayers and trucks.
There is an integrated computer system, which is networked between locations that tracks sales and availability.
This property also has a 3-bedroom house and a studio unit for worker housing.

The Hilo facility is located on a 10-acre property leased from the State of Hawaii. It consists of 2 Quonset greenhouses and 2 shade houses. One shade house was constructed in 2011 and has all new benches and irrigation. There are also 10 benches outside.
Seller training possible.
View the full virtual tour and current pricing here:
Posted by Kelly in : Big Island Hawaii, Featured Listings, Moving to Hawaii , add a comment
HERE ON THE BIG ISLAND
A Suite Deal
A unique condominium in Hilo is coming up for sale, and in the interests of full disclosure you should know that it's not only my listing but my own. It's the pied-à-terre that I use when I want to stay overnight in Hilo, rather than drive home sixty miles to Waimea.
It was built in the early 1970s as the "honeymoon suite" of a Polynesian-style resort hotel: a low-rise complex of two- and three-story buildings, nestled within a group of little ponds, close to where the Wailoa River meets Hilo Bay. Every room boasts a wide lanai, and faces either the swimming pool, a landscaped pond, or a view of Mauna Kea. Travel writers liked the location, which is only a few minutes' drive from downtown Hilo in one direction and a nine-hole golf course in another. They were delighted, too, by its tropical landscaping that flowed smoothly into Hilo's biggest park, which is right next door. But as a hotel it did not succeed financially, because it had to compete with much larger, self-contained resorts on the other side of the island.
So the hotel underwent a condo-conversion in the 1990s, and – now called Waiakea Villas – it has been a popular residence address ever since. The original rooms are now studios or one-bedroom apartments, the largest being my two-story honeymoon suite, which has one big bedroom and one-and-a-half baths.
What you notice first are the cathedral ceilings and the double-height windows that frame a grove of mature palm trees. The main floor has a full kitchen open to the dining area across a breakfast-bar, and a wide lanai that overlooks one of the larger ponds, lively with colorful koi fish and water fowl.
The living area has plenty of room for entertaining, and I've kept the original furniture because the wide chairs and sofa are so comfortable: they fairly cry out to be sprawled upon. But lest you think this is an old-fashioned place, cable TV and wi-fi connections bring the apartment into the 21st century.
Upstairs, overlooking the living room, the bedroom is also big. Even with its king-size bed, there's plenty of sitting-room space, plus a second wide lanai.
The master bath has a shower and tub, of course, but its best feature, certainly for honeymooners (or second-honeymooners!) is a Japanese-style hot-tub for soaking in, called a furo.
At 937 square feet, this condominium is big enough to be a full-time residence; but because the condo has hotel/resort zoning, the owner can legally rent it out to long-term or short-term vacationers. The asking price is $175,000; and the monthly homeowners' fee of $906 covers the common-area maintenance, the basic utilities – electricity, water and gas – and the use of the pool. There's a coin-op laundry in the building, and plenty of free parking.
There aren't many townhouse-style condominiums in Hilo, and none that are so convenient. So if you'd like to know more about this one, let me know, and I'll send you the full specs.
Click here for the virtual tour:
Posted by Kelly in : Featured Listings , add a comment
Large Acreage with Panoramic Ocean Views
Property Website: www.KellyMoran.com/242451.asp
Virtual Tour: www.tourfactory.com/471543
Large acreage with views overlooking Hilo Bay and Pacific Ocean. Park-like ambiance with old growth Ohia and Koa Trees. Open pastures and tropical forest with several streams and waterfalls running through the property. Located on Kaiwiki Road only 15 minutes from downtown Hilo.
Electric and telephone service poles located approximately 1,000 feet away. Property is in the "Resource Subzone" of the Conservation District, which allows one house to be built with approval from the Department of Land and Natural Resources.
Posted by Kelly in : Featured Listings , add a comment
NEW LISTING!
New 3 Bedroom/3 Bath Oceanside Home on 12 Unit CPR Parcel
Property Website: www.KellyMoran.com/242566.asp
Virtual Tour: www.tourfactory.com/409538
By the beaches in Hilo is a rare residential development opportunity. "Coco Palms" is located on 1.4 acres and is a planned 12-unit Polynesian-styled residential complex zoned "Hotel and Resort". If you imagined a little grass shack with every luxury amenity available, this would be it! Cantilevered over an ancient fishpond located in the center of the property, the thatch-roofed 3 bedroom, 3 bath model unit has been completed. The property has a total of 12 Condominium Property Regime ("CPR") units, with plans included in the sale for the 11 additional units.
The address is 1335 Kalanianaole Avenue. Because of the Hotel and Resort zoning, the future potential uses for this property are myriad. Live in the model home and enjoy the large natural fishpond all by yourself. Float in privacy and serenity while listening to the waves at nearby Onekahakaha Beach Park. Hang a hammock from the coconut trees & sway in the tropical tradewinds. Sip a mai tai on the lanai of the home while enjoying the view of the ocean & fish pond. Or, build a few other units. Plans are included for 11 other homes similar to the model home. Use them for friends, family, vacation rentals, or ??? The possibilities are unlimited. Build them and sell them. You control the density and the build out.
The model home is environmentally conscious and luxuriously appointed. Solar thermal heating system, solar hot water, custom ventilation and bamboo flooring are a few of the eco-friendly features. Obvious attention-to-detail is evident. Spanning the Oceanside length of the main living level is a spacious ten feet deep lanai, complete with ceiling fans and a granite counter outside of a kitchen pass-through… perfect for entertaining! Inside, a great room opens to a gourmet kitchen complete with granite counters, a cooking island and bar, Koa veneer kitchen cabinets, and top-of-the-line stainless steel appliances. E Komo Mai!
Posted by Kelly in : Featured Listings , add a comment
NEW LISTING!
Renovated Plantation Home in Honomu Village
Property Website: www.KellyMoran.com/242257.asp
Virtual Tour: www.tourfactory.com/707716 
Renovated plantation home in Homomu Village, located next to the road to Akaka Falls. Walk to all the bakeries, restaurants and stores in Honomu. Only 20 minutes from dowtown Hilo.
The interior remodel has created an open-concept design. Updates in the kitchen include granite counters, a granite breakfast bar, new porcelain tile floors, updated cabinets and contemporary hardware. The bathroom is renovated with Travertine floors and ceramic tiled walls. You will love the charming plantation-style details like the original douglas fir wood floors, built-ins and traditional chair rail details. The open design includes spacious bedrooms with ceiling fans.
Relax on the spacious covered front porch overlooking the landscaped yard, including grass lawns, coconut trees, banana trees, blooming orchids and other exotic tropical plants.
Additional features include a dining room, living room, fenced side-yard, nice back yard with privacy, carport, storage shed, cable and county water.
Posted by Kelly in : Big Island Hawaii, Featured Listings, Updates , add a comment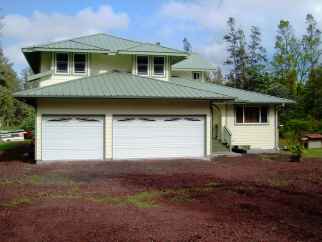 NEW LISTING!
Country Privacy and a Spectacular Custom Home
Property Website: www.KellyMoran.com/240592.asp
Virtual Tour: www.tourfactory.com/698915
Enjoy country privacy in a spectacular custom 4 BR, 3.5 BA home with high-end quality details, including granite counters, gourmet kitchen, and a master suite with tiled lanai overlooking natural tropical foliage.
This Hardi-plank sided home has custom trusses, all dual-paned windows, a 10,000 gallon catchment water tank, dual filter UV water system, and a partial ocean view! The living & dining rooms feature gleaming Brazilian laminate flooring. A sliding door opens from the dining room to the ground floor lanai overlooking the peaceful back yard.
The second-floor master suite features a tiled lanai with a "peek-a-boo" ocean view, walk-in closet, master bath with dual sinks, whirlpool tub, and separate glass block enclosed shower with multiple shower heads. Two additional upstairs bedrooms share a "Jack & Jill" bathroom.
The home site was cleared to preserve the large native trees which provide privacy surrounding the property. Tropical fruit trees & vegetables have been planted in the fertile soil, including: avocado, fig, mango, grapefruit, lychee, tapioca, tangerine & more! Ornamentals include: orchids, roses, hibiscus & sunflowers.
Privacy, luxury, and room to breathe! This home has it all.
Posted by Kelly in : Featured Listings , add a comment
Newly Listed!
Turnkey Orchid Nursery Business and 3 Bedroom Home: 
Available Together or Separately
Consider the convenience of owning your own business and being able to take a few steps to work!  Seller prefers to sell the orchid business and the home together (a total of 2 acres); however they may be purchased individually.
Each listing has one acre:
Home:  TMK 3-1-5-38-130 (MLS 239189)
Business:  TMK 3-1-5-38-129 (MLS 239190)
Beautiful 3BR/2.5BA Custom Home with Pool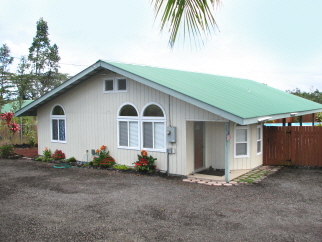 15-1491 24th St., Keaau, HI
Beautiful custom home built in 2003, includes your own oasis with newly-installed above ground lap pool with privacy screen decking as well as your own covered outdoor lanai with two sides open for tropical breezes (additional 600+ sq. ft.) for dining or just plain relaxing. Perfect for the extended family or to enhance your privacy.
This home has vaulted ceilings to keep the house cool and benefits from the tradewinds flowing throughout the home. You may never need to use the designer ceiling fans installed in every room, complete with remote controls! Beautiful tile work graces the home, which also has a private water well system shared with its nursery next door.
---
Imagine a Lifestyle of Beautiful Orchids and a Life in Paradise All Year Long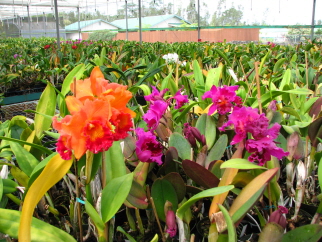 15-1501 24th St., Keaau, HI  96749
Imagine a lifestyle involving beautiful orchids and warm weather all year long. This business offers a great working environment and a life in paradise. Beautiful potted orchids will be yours with this property and business!
The orchid nursery is in its 8th year of operation and has a longstanding reputation for quality products. It has established clientele and a web-based retail store, including a registered domain name. The nursery has around 60,000 orchid plants growing under approx. 24,000sf of covered greenhouse with irrigation at the touch of a button using its own private well water tapped into a delicious pure water aquifer 250 feet deep.
There is an efficiently organized packing area, air-conditioned office with 2 desks and 1 computer and a lounge area.
The current owners will provide training to the new owner.
Posted by Kelly in : Featured Listings , add a comment
Newly Listed!
Alae Point Classic
Mid-Century Modern, Single Level Home with Spectacular In-Ground Pool in a Highly Desired Hilo Neighborhood
37 Makakai Pl., Hilo, HI  96720
Steps away from Honolii swimming & surfing beach park, this home is immaculately kept and ready for anyone who appreciates living the island lifestyle.
The single-level ranch design allows easy indoor/outdoor living that is accessible for everyone in the household. Some of the features that you'll find are: an enormous lava-rock fireplace in the living room, ocean views and 9 ft. open-beamed ceilings. This very large home has 3 bedrooms & 2 1/2 baths, plus a formal living room, dining room, sun room and family room.
The exterior is landscaped with red ceiling wax palms, and a covered port-cochere is in the circular driveway.
The pristine swimming pool is surrounded by an entertaining deck, with an island bar. An outdoor bathroom and shower open directly to the pool deck to minimize wet footprints in the house. This area is so inviting that you may find it hard to go inside!
Alae Point is one of Hilo's most desired residential locations. Located just north of Hilo, there is quick and easy access to Hilo Medical Center, downtown Hilo, and the University of Hawaii at Hilo.
Designed for island-style living, this home has it all!