Posted by Kelly Moran in : Big Island Hawaii, Hawaii Travel, HERE ON THE BIG ISLAND, Resources, Updates , add a comment
HERE ON THE BIG ISLAND
By Kelly Moran
Overnight Accommodations
When it comes to picking a place to stay, whether you're on vacation or searching for a home, there are almost too many choices here!
RESORTS. Many visitors want a resort experience, with a (full or modified) "American plan" under which all or nearly all activities and meals are included in the room rate. The Big Island's resorts are on the coast of South Kohala: green oases in the district's otherwise black lava landscape. Golf courses are abundant, but (compared to resorts on Maui and Kauai) the beaches are small and are typically augmented with swimming pools and ponds. Typical of the South Kohala resorts is the Waikoloa Beach Marriott.
Most resort hotels are mid- or low-rise buildings, with function rooms for conventions. But there's one prominent exception: guests at Kona Village stay in thatched huts, called hales, that are fully modern inside, but (deliberately) have no phones or TVs.
HOTELS. Hilo doesn't have resorts, but it does have a string of hotels on Banyan Drive, with extensive views of the bay and the ocean. The tallest are the Naniloa and the Hilo Hawaiian; a smaller alternative is Uncle Billy's Hilo Bay Hotel.
Close to Downtown Hilo, the Dolphin Bay Hotel and the Wild Ginger Inn are modest in size and price.
There are dozens of small hotels in and around Kailua-Kona; but for a truly "local" experience, there's no place like the Manago Hotel, in Captain Cook: a family enterprise for over 80 years.
B&Bs. A Bed-and-Breakfast is, essentially, someone's house with nice guest-rooms. If you don't want the all-inclusive resort experience, and don't need the guest services of a hotel, then a B&B is ideal, especially if you want to stay in a town with no other kind of visitor accommodations, such as Pahoa, Volcano, Naalehu, Honokaa, or Hawi. Start your search for a B&B at the Bed & Breakfast Online website.
Probably the most celebrated (and, arguably, the most beautiful) B&B on the Big Island is Shipman House, in Hilo, originally the Victorian mansion of a prominent local family, where Queen Liliuokalani and author Jack London were house-guests.
Vacation Rentals. If you're going to be here for more than a week or two, consider renting an apartment. You'll be on your own for all meals, with kitchen facilities ranging from plain to fancy, and for housekeeping, with services ranging from full to none.
These accommodations are easy to find and compare, especially on the Konaweb site, or at the VacationRentals411 website, both of which cover the entire island.
And if I may make a suggestion . . . do consider my own vacation rental apartment in Hilo, which I call the Lehua Honeymoon Suite.
…
Posted by Kelly Moran in : Big Island Hawaii, Hawaii Travel, HERE ON THE BIG ISLAND , 1 comment so far
HERE ON THE BIG ISLAND
By Kelly Moran
Are You Ready to Live Here?
Many people dream of living in Hawaii. Take a few vacations here – maybe even just one – and the idea will certainly cross your mind. But whether you do move here, or just keep dreaming about it, is up to you, because living in Hawaii, full-time, is not for everybody.
In my last blog, I talked about relocating your pets. Now I want to talk about relocating yourself. I can help you do it. But I want you to come with your eyes open. If you are serious about living here, full-time, there are some aspects of life here that you should keep in mind.
The Climate. People who move to Alaska are people who trulyenjoy wintertime. If you move to Hawaii, your favorite season had better be summer, because unless you live more than 2,000 feet above sea level, you're going to be hot most the time.
And probably wet, too. You may not want to live on the rainy, windward side of the Big Island, but with the exception of our desert-like leeward shoreline, this island is also very humid. Granted, we don't have a wet-blanket humidity, like Florida or the Gulf Coast, but there's always moisture in the air, and you should be prepared to deal with mold and mildew.
The Cost. If the reason you like summertime is because you can beat the heat with air-conditioning, remember that electricity on the Big Island already costs nearly 40 cents a kilowatt-hour, and is sure to go higher. Although there are now State income-tax incentives to install solar hot-water systems, many homes here still have electric water-heaters and ranges. Add in what your hair-dryer or your power-tools will consume, and you can expect your monthly electric bill to be gigantic.
Stroll through a local supermarket; most necessities are more expensive here than on the Mainland. And as the price of oil climbed, this past year, fuel-surcharges raised the cost of shipping. And the price of airline tickets. Getting you here also costs more, now, than ever before.
The Isolation. This is something you may not be able to plan for. Hawaii is a very big island, as islands go. But it's no continent. There are only so many places to drive and things to do, here. How many trips will you really take to the beach, the volcano, or the summit of Mauna Kea? You're going to spend a lot of time at home, staring out your window at the ocean or the tropical foliage; and believe it or not, you could get bored. You might contract what local folks call "rock fever," and yearn to get the heck away!
The People. Unlike everywhere else in the U.S., it's perfectly acceptable, in Hawaii, to talk about race. Nearly everyone here has a multi-cultural background. The various ethnicities of beauty-pageant contestants are proudly and publicly announced. A dinner guest may turn to another and say, "You look Polynesian – are you part-Hawaiian?" (On the Mainland you would never hear: "You're rather dark – is someone in your family Black?")
Local people – strangers, even – may ask about your ethnic background. If you are Caucasian, it's not enough to shrug and say you are a haole – they can see that! You must be prepared to elaborate ("My mother is a German Jew and my father is Polish," or whatever.) And you will hear plenty of ethnic jokes based on stereotypes; they're rarely cruel, but they are popular, and you'll have to take them in stride, especially if it's your ethnicity that's being laughed at.
In a multi-cultural environment, too, not everyone will speak English well. You'll have to get used to hearing "Pidgin", especially among youngsters. And you must be prepared to slow down, when talking with shopkeepers, service people, and even government officials.
I don't want discourage you. But living full-time in Hawaii is more complex than it may appear to be when you're here on vacation. The reality is: some people who move to Hawaii . . . move back.
Posted by Kelly Moran in : Big Island Hawaii, Hawaii Travel, HERE ON THE BIG ISLAND, Resources , 1 comment so far
HERE ON THE BIG ISLAND
By Kelly Moran
Bringing Fido and Felix to Hawaii
"What about my dog and cat?" a friend asked. "Can they move to Hawaii with me, too?"
These Islands are unique in many ways, but one is that there has never has been a case of rabies here. Since Territorial days, in 1912, the authorities have actively discouraged people from bringing carnivorous mammals here, on the remote chance that they might be infected. And until 2003, this was enforced by a four-month quarantine for all arriving pets (except guide-dogs for the blind). If an animal showed no signs of rabies after 120 days in a Honolulu facility (housed and fed there at the owners' expense, of course), then it could be released. Owners could visit their pets every day, but that was inconvenient unless they lived nearby, or at least on Oahu.
But most people are unwilling to leave Fido or Felix behind, even with a trusted friend or neighbor. So, what does bringing them here involve? Read the State's rules-and-regs, and the answers to frequently-asked-questions for all the details. But the basic requirements are that a pet must have had at least two previous rabies vaccinations. A blood sample must be submitted for evaluation, to ensure that it's free of rabies. And the pet must have an identifying "microchip" to link it with its blood sample.
This means you can forget about bringing a new puppy or kitten. After even the minimum number of shots and checkups that they need to qualify for admission, a dog or cat will be almost a full year old.
There are now quarantine stations on Kauai and the Big Island, and a "five-days-or-less" quarantine option, based on veterinary certification. But still, arriving pets may first have to spend about two days in the Honolulu facility – it's the only port of entry – to ensure that they meet all the medical requirements.
What about bringing in other animals? Well, wolves and dingos are prohibited, but mainly what Hawaii absolutely does not want here are snakes. Recently, a few brown tree-snakes have hitchhiked here on military transports from Guam, but – fortunately – they have been captured before they could escape and go wild. While they might (might) put a dent in the coqui frog population, they would more likely wipe out the last ground-nesting native birds, and pose a threat to local people, who have never before needed to watch out for snakes in the wild. This proscription is thought to have been instigated by missionaries in the 19th century, who didn't want the biblical tempter hanging around. But even back then, it was understood that snakes would drastically upset what we, nowadays, call the "fragile ecosystem" of Hawaii.
So, don't complain about the lengthy quarantine period. It keeps us all safe. And it has also had the (fully intended) consequence of encouraging local adoption. The Islands are teeming with feral cats and dogs who have run away, or who have been deliberately abandoned. Shelters operated by the local Humane Societies, and the various private animal shelters, all offer free or very low-cost spay/neuter services; they do not allow any animal to be adopted without having first been sterilized. And wherever you go, you'll see bulletin-boards and classified-ad pages offering free cats and dogs. But there are still more potential pets here than there are potential owners.
Anyone who is contemplating a move to Hawaii ought to give serious thought to acquiring their pets here.
Posted by Kelly Moran in : Big Island Hawaii, Hawaii Travel, HERE ON THE BIG ISLAND , 1 comment so far
HERE ON THE BIG ISLAND
By Kelly Moran
Is Hawaii Still a Nation?
Something happened in the 1890s, that has not yet been fully resolved. Last month, while most people in Hawaii were celebrating the 49th anniversary of Statehood, political activists briefly took control of Iolani Palace, in Honolulu, claiming it as the seat of a native Hawaiian government that had been illegally overthrown.
Was it illegal? After King Kalakaua died, his sister Liliuokalani became queen. She wanted to change some laws regarding land ownership, and extend the voting franchise to ordinary Hawaiians who did not own property: actions which would have undercut the disproportionally large influence that a few haole merchants had gained under her brother's (admittedly sometimes careless) reign. So in 1893, a committee of Honolulu merchants persuaded a U.S. Marine commander to lead a company of armed men from their ship in the harbor, to surround Iolani Palace, while the merchants went inside and formally deposed Liliuokalani.
Furious, Liliuokalani sailed to Washington DC, and persuaded both President Grover Cleveland and many U.S. senators that her overthrow was illegal and should be nullified. But the merchants had allies in the Senate too, and considerable influence in the American economy, regarding the sugar trade. Within a few months, there was a brief armed putsch in Hawaii, which failed to restore Liliuokalani to the throne. Brought up on charges, she was convicted of knowing about the insurrection but failing to report it, and sentenced to house-arrest.
In Washington, despite five years of lobbying and debate, the Senate could not resolve the issue of her sovereignty; and in 1898, President William McKinley – an advocate of American's "manifest destiny" to grow ever westward – annexed Hawaii.
Whether the queen was a victim or a tyrant, and whether annexation was a blessing or a curse, is still debated today. To make her case in Washington, Liliuokalani wrote her autobiography, Hawaii's Story (Mutual Publications, facsimile edition, 1990); and many subsequent books have followed her lead and taken her side.
The annexationists' case is especially well made by Thurston Twigg-Smith, grandson of one of the merchant committee's leaders, in Hawaiian Sovereignty: Do the Facts Matter? (Goodale Publishing, 1998).
Feature films have never covered the drama, but The Trial of Liliuokalani is a provocative stage play – first mounted in Hawaii, in the 1970s – that playwright Maurice Zimring based on court transcripts.
A bill has now been introduced to the U.S. Senate, by Hawaii Senator Dan Akaka, that would grant native Hawaiians much the same status under law as Native American Indians have today, including the right to form a quasi-governmental organization. It has plenty of opponents, who claim it would create a race-based division of the citizenry; and the "Akaka bill" was tabled in the last congressional session. But Hawaii's Republican governor favors the bill; and passing it is now a plank in the U.S. Democratic Party's election platform.
It's possible, therefore, that when the 50th anniversary of Statehood rolls around, next August, the nature of the day's events may be rather different than they have ever been before.
Posted by Kelly Moran in : Big Island Hawaii, HERE ON THE BIG ISLAND, Updates , 2comments
HERE ON THE BIG ISLAND
By Kelly Moran
Makai or Mauka?
Would you rather live by the sea, or on a hill?
On a coral atoll, everywhere you could possibly live is close to the ocean; but on a high island like Hawaii, you can live so far from the water that you might not even see it! Everyone who has the choice is either a makai (seaward) or a mauka (uphill) type. Which are you?
Living makai is what most people probably imagine, when they contemplate moving here. It's almost stereotypical: swaying palms, seashells at your feet, that bracing salt air . . . . Being right on the water, or close to it, gives you the calming sound of the surf, and those cool breezes that are so welcome on hot days. Actual ocean frontage, of course, is typically the most expensive land. But sea views – from anywhere – are always in demand, and the greater the expanse of ocean you can see, the more desireable will be that property.
Just remember that, unlike the older Hawaiian islands, the Big Island has very few sandy beaches, and no one with an oceanfront lot has a truly "private" beach. By law, property owners have to provide – or at least not block – access to their section of the shoreline from the ocean or from the adjacent coast, and the public is entitled to be there, to swim, fish, etc., right up to the high-water mark. That said, though, since most of our coastline here is rocky – some of it actually being sea-cliffs a hundred or more feet above the water – there isn't too much foot-traffic along most of our shores.
If there's a down-side to living on the ocean, it's the ocean itself. Salt spray fogs your windows, and leaves a crust on your furniture and clothes; it will also wreak havoc with unshielded electronics. Building-codes are particularly restrictive at or near sea-level, too, because your house is vulnerable to damage from storms, and (it must be said) from tsunamis.
Still, here are some potential makai properties to consider:
40′s Vintage Plantation Home with Million Dollar Views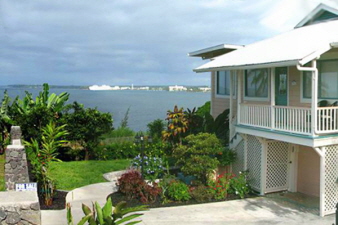 Architectural Masterpiece with Private Beach on 13 Acres
*Virtual Tour*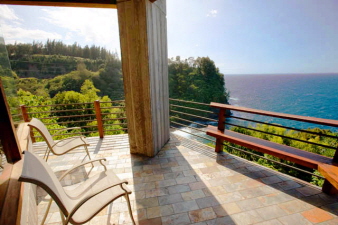 Rare Hilo Oceanfront Estate
*Virtual Tour*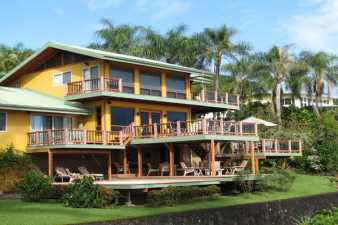 2 Oceanfront Acres with Panoramic Coastline Views
*Virtual Tour*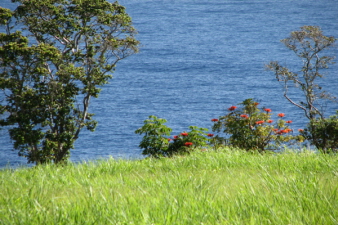 Oceanfront Paradise! Over 1/2 Acre, Panoramic Bay & Kaloli Point Views
*Virtual Tour*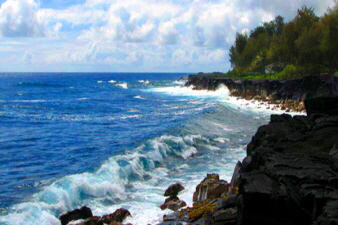 What about living mauka? Land uphill, even with a distant ocean view, is typically less expensive than property of the same size close to the water. And mauka lots are generally bigger, too, so you may have more privacy. The temperature drops approximately three degrees (F) for every 1,000 feet of elevation, so summer days will be a little cooler, no matter how high up you go; and winter nights, if you're in, say, Waimea or Volcano, can be be quite chilly – though quite a few houses there will have thicker walls and possibly even a fireplace.
If you want to live in the woods, you'll have to be uphill, where there is a greater variety of trees that also grow taller and closer together than they do near the ocean. Maybe you prefer the wide-open spaces: the farm- or ranch-lands are all uphill. Many mauka parcels are almost flat, especially if they were formerly used to grow sugar cane; they can serve as a "blank canvas" on which you can create your own landscape from scratch.
The down-side to mauka living is mainly about distance: everything is a car-drive away: the beach (of course!), but also movies, festivals, and shopping. If you have to commute to work, and especially if gasoline stays as expensive as it is right now (over $4 a gallon), living uphill will be a bit costly.
Nonetheless, there are some wonderful mauka properties available, right now:
Panoramic Ocean, Mountain & Stream Views – 6 Acres
*Virtual Tour*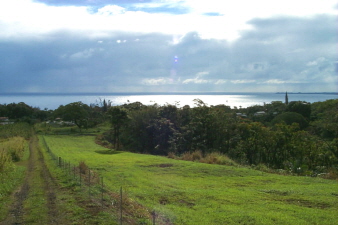 Cozy 2BR Home on 7.9 Acres – Private & Serene
*Virtual Tour*
Diversified Ag Business with Home on 20 Acres
*Virtual Tour*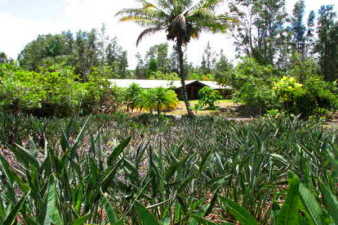 8.3 Acres – Panoramic Mountain, Ocean and Hilo Bay
*Virtual Tour*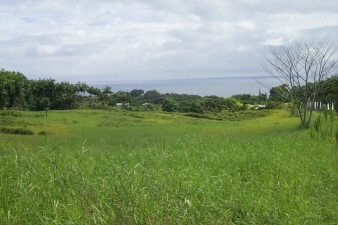 So wherever you choose to life, you'll certainly agree that there's no place like home on the Big Island!